What Is a New Employee Orientation, Why Do You Need One and Whose Responsibility Is It?
You've already impressed your new starters, as they've committed to working at your organisation. However, you can't become complacent the day they start working for you because you must ensure you engage them throughout their working life cycle. The period from the moment you made them an offer to when they start their first day is referred to as the onboarding process. The employee orientation commences once an employee begins working at your organisation.
But there's a lot more to a successful employee orientation than ensuring that new starters have an overview of your organisational policies and procedures; you need to socialise them into the company, help them feel prepared to do the job they've been hired to do and welcome them not just into the organisation but also into their team. And it's not just down to HR.
This blog will include;
What Is a New Employee Orientation?
Employee orientation is a process of welcoming new employees to the organisation and introducing them to organisational values, processes, procedures and other aspects of your culture. The orientation is a fantastic opportunity to integrate new hires on their first day or during their first week, and done well, it can and should make them feel welcomed, more informed about the company and culture and give them all the tools so they can start in their new role.
Why Is a New Employee Orientation Important?
In the continuing war for talent and the increase of remote and hybrid working, you need to engage new starters as soon as possible. Effective employee orientation plays a big part in their first impressions of working at your organisation. The orientation can educate new starters, help them feel more comfortable and informed when they start and help new starters get up to speed more quickly.
Imagine if nobody told you your teacher's name, where you could have lunch or what the rules were on your first day of school. Although the workplace isn't the same as school, the fundamentals of making new starters at home and giving them a compelling employee experience from day one can help them to settle and engage with the organisation.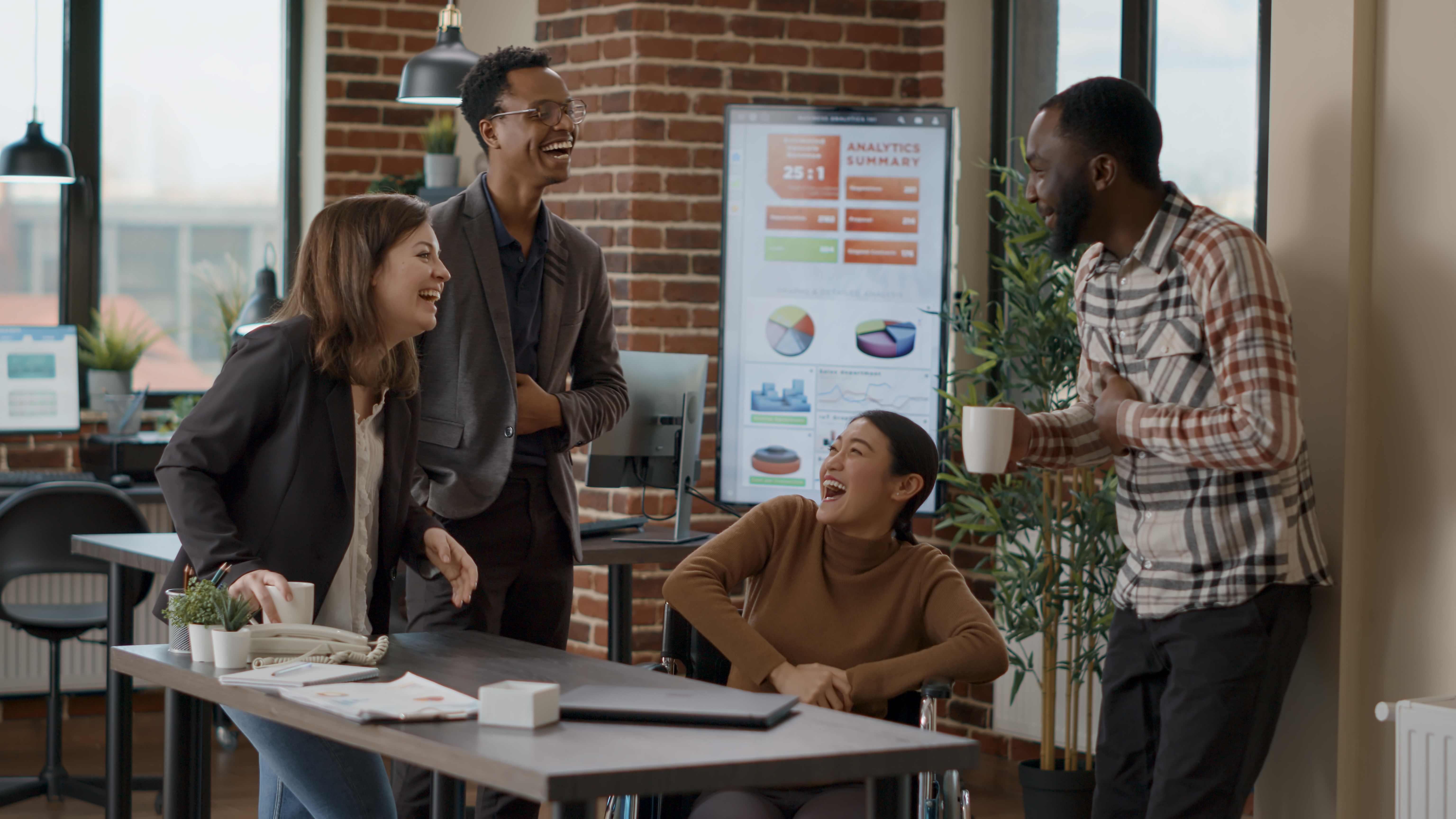 Who Is Responsible For The New Employee Orientation?
While it may be assumed that employee orientation is HR's responsibility, it's not necessarily the case and will differ in each organisation. In some cases, HR may organise the first-day induction as they will know new starter dates and information across the organisation and will be aware of what legal requirements must be included (such as health and safety, etc.).
But managers must also be responsible for ensuring their new starters have a positive and informative experience. Managers cannot simply assume that HR will go off and organise the orientation for their starters. They should ensure that the orientation is relevant for their new starter (e.g., are they going to be doing it in-house or remotely) and is all the information they need included?
And once the person starts doing the job, how are they welcomed into the team and shown what to do? Managers can't just adopt the GAAFOFY approach (go away and find out for yourself) for all tasks as it won't help engagement! Instead, their manager must lead the ongoing orientation and support of a new starter.
What To Expect At a New Employee Orientation?
Although the format of an employee orientation will vary across organisations, there are some obvious consistencies. An employee should know that they are having an orientation before their first day as the details should be communicated before they start.
Legal requirements should be included, but it's also an opportunity to remind the employee why they chose the organisation and what they can expect. For example, if the orientation is disorganised, running late, speakers are missing, or video connections for virtual employees don't work, it doesn't give a positive impression of the workplace they have committed to.
What Does The New Employee Orientation Include?
In addition to an orientation educating new starters about an organisation's culture, policies and procedures, specific areas of training should also be covered. This may include the tick box requirements for all employees where they may have to complete online programmes relating to compliance and health and safety, but more training can also be included.
Each manager must take the time to organise what training new employees in their team need outside of the formal orientation training. For example, for someone joining the HR team, the manager may organise on the job training so they can learn the HRIS systems, shadow others in the team carrying out meetings or spend time in other departments. Such skill development can help motivate new starters, make them feel part of the team and organisation, and give them confidence in their new job.
Include Social Integration
Another critical aspect of the employee orientation is to ensure that new starters also experience adequate social interaction with their new colleagues. According to research, 60% of managers who fail to successfully onboard new starters say that a primary reason is the failure to establish effective working relationships.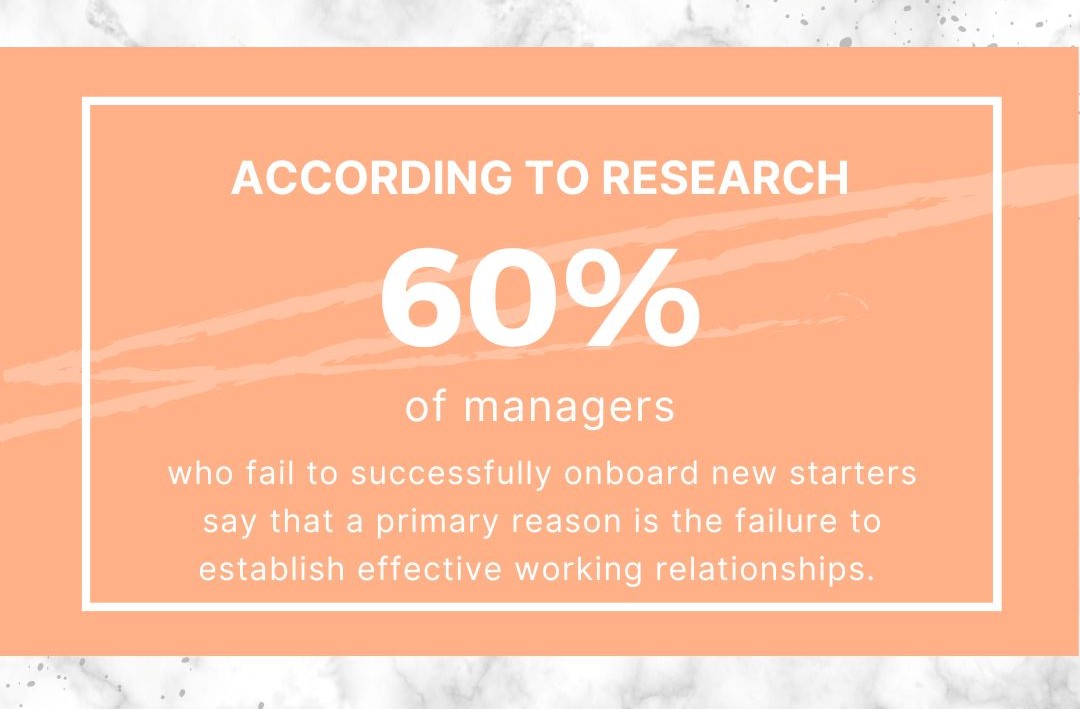 Therefore, it is the manager's responsibility to ensure social integration early on into the new starter experience. This may be through a team lunch, team meetings, job shadowing, on the job training or potentially even a buddy or mentoring system.
What Is Employee Orientation Software?
You can go one step further to increase communication with new starters that doesn't involve bombarding them with paperwork before their first day: technology. Using new employee orientation software by Sorwe, you can communicate with new starters via an app that gives them extra information and may make them less worried about their first day.
For example, you can personalise the new starter orientation software for each person to give what they need depending on their department or role. By communicating the steps of each person's orientation, you are helping your internal processes and making each person feel welcome, unique, and not just a number. It sets the culture of trust and inclusion before they step into the office on their first day and supports them through the coming weeks.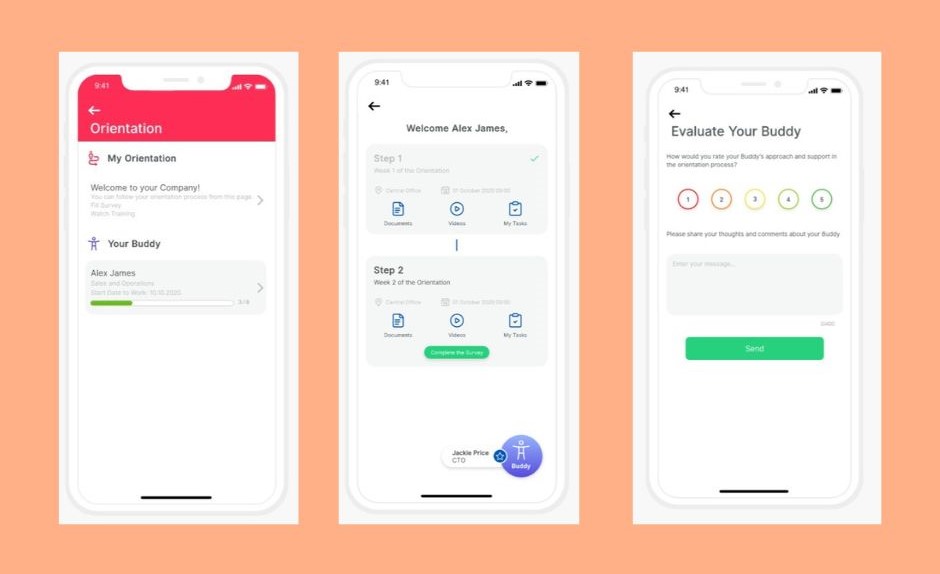 How To Manage a Virtual Employee Orientation
However, what happens in the case of virtual working and those new starters who won't be in the physical office? How do you ensure they still receive a seamless employee orientation? Using an app will be essential to include them remotely as you can use it to communicate the orientation tasks and offer them a checklist. To make it more personalised, you can ensure that the app also includes your organisation's logo, colours, and values to increase engagement and immerse them into the company without them physically being there.
A virtual orientation could also include video links to any in-person presentations or discussions that new starters in the workplace receive, and managers can do video calls with new starters. You can also include a specific employee orientation section on the intranet, and starters can use the checklist on the app to work their way through the tasks and presentations.
An employee orientation is an essential aspect of the onboarding process, and managers cannot rely on HR to carry out every part of the orientation. Although some of the orientation will be the same for all new starters, managers must also customise training and team integration to give each employee the best start they can. Not only should this increase engagement, but in the longer term, it may affect performance, productivity, turnover and your organisation's reputation for looking after its people.
Sorwe provides the tools you need for an effective employee orientation in your organisation. Please get in touch with us to learn more about how Sorwe solutions can help you improve your employee orientation practice.